Parish Hall, Church Road, Egham, TW20 9LJ
0113 531 1000
[email protected]
Our location
Parish Hall is situated in a prime location right at the heart of Egham's town centre and close to the railway station
The 100 self contained studios are ultra modern, stylish and well-equipped with modern furniture and finishes. Parish Hall boasts a private dining room for students to hire, great for socialising and meeting new friends - Royal Holloway, University of London is just a short 15 minutue walk away so these apartments are perfect for all students studying there.
With its town centre location students have a great choice of bars and restaurants right on their doorstep, along with a fantastic range of local shops.
Read more
Back to top
Room types and prices
Studio apartment with private shower room, kitchen facilities and 3/4 bed
Studio 2021/22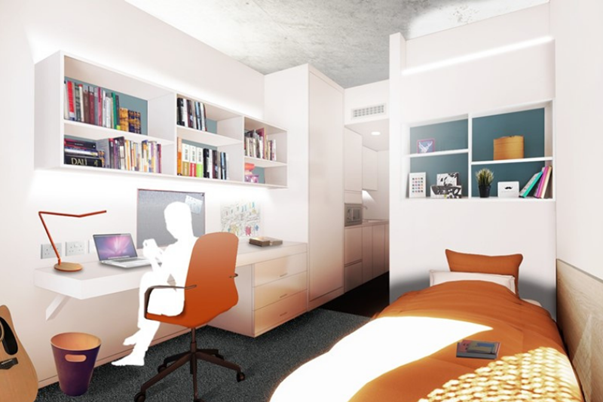 Studio room with kitchen facilities, 3/4 bed, desk and desk chair, private en-suite shower room and storage. All rooms include USB ports, fridge freezer, and Microwave/combi oven. *images are a representation. Room layouts may vary*
50 weeks
Contract start date:
18/09/2021
Rent per week £225.00
Total cost £11,250.00
Book now
Back to top
Images are for illustrative purposes only, each room type is different in style and size depending on location within the building.
Please note that you will be required to pay a £250 deposit in order to secure your room. This is a separate payment to your rent.
Essential information
FAQ's
Documents & policies
We understand that you may have a lot of questions before moving into your new room.
Below is a list of FAQ's to help answer any questions you may have.
If there is anything you still need help with please do not hesitate to get in touch!
My offer has been rejected by the university, can I cancel my booking
Yes, please screenshot your rejection letter from UCAS along with your name and reference number. Send them to
[email protected]
within 3 working days to receive your deposit back.
I'm applying through clearing, how can I book?
If you have gone through clearing and have now have a place at University, you can still book accommodation with us. Check the room availability above, or call us on 07912 347252
How close is the University?
Royal Holloway, University of London's main campus is approx. 15 minute walk away.
Do I have contents insurance?
Yes! As standard, all Derwent's students are automatically covered by the #1 Student insurer, Endsleigh. However this cover may not be sufficient for your needs, for example if you have expensive computers and smart phones so we strongly recommend you review your policy and upgrade your cover if you feel you need it. Visit Endsleigh's website (https://www.endsleigh.co.uk/personal/home-insurance/your-student-cover/?HHRef=HH1090) to check your policy details.
Who looks after my deposit/when do I get my deposit back?
Your deposit is safely stored away with a company called DPS you can contact them on 0330 303 0030. You will receive your deposit back once you have checked out of your room at the end of your tenancy (subject to any damages charges).
I'm an international student, do I need a UK guarantor to book?
If you wish to pay your rent in instalments you will need a UK Guarantor, If you don't have access to a UK Guarantor you can apply to Housing Hand. They provide a UK guarantor service for international students who are unable to provide a suitable guarantor. If you would like more information on the service they provide and their fees, please visit their website www.housinghand.co.uk or you can contact them directly on 0207 205 2625.
Is there a medical centre nearby?
The nearest medical centre is The Grove Medical Centre on Church Road. https://thegrovemc-egham.nhs.uk/
Where is the nearest cashpoint?
There is a ATM in Egham Station and most high street banks can be found on the High Street in Egham.
Where is the nearest police station?
The nearest police station is Staines, 22 Kingston Road, Staines, TW18 4LQ Tel: 01483 571212
Where is the nearest post office?
The nearest post office is on the High Street – 68a High Street TW20 9EY and is a 3-minute walk away
Where is the nearest gym?
Active Lifestyle, Egham Orbit is a 14-minute walk away or The Sports Centre at RHUL campus is a 20-minute walk away
Where is the nearest supermarket?
There is a Waitrose on Church Road or you can find Tesco and Iceland Foods on the High Street.
Download useful and important policy documents and agreements below.
Back to top