Our Cambridge Accommodation
From £200 per week
This luxurious student accommodation in Cambridge boasts a range of private studios perfect for independent living with your own personal catering space and en-suite bathrooms.
Room types
En-Suite (51 Wks Tenancy)
En-Suite (44 Wks Tenancy)
Studio
About Cambridge
Our luxury Cambridge student accommodation is located in the heart of a city that is well renowned as one of the most coveted university cities on the entire planet, and soon it will be your home for your time studying here. Not only will you be living within a building that has been designed with the modern student in mind, you'll also see some truly stunning views of this picturesque town from the windows of the student apartments. You have a choice of large studio apartments or shared apartments with en suite bathrooms. Every student has access to a new home that is ultra-comfortable, built with sophistication and offers large comfortable beds, ample storage space, and great spaces to study. Not only that, security is of the highest standard and communal areas built for you to make new friends easily and have somewhere fun to relax and recharge your batteries after a hard day of study.

Our student accommodation in Cambridge is close to both The University of Cambridge and Anglia Ruskin University, both of which can be reached easily on foot, or by using the great public transport links that are found on the doorstep to the apartments (there is a subsidised bus that reaches most colleges on campus). Cambridge Retail Park is very close by, and as Cambridge is a pretty compact city it is easy to find all amenities, shops, bars, cafés, restaurants, and clubs, within a short stroll, or on bike (it is a city that is full of cyclists!).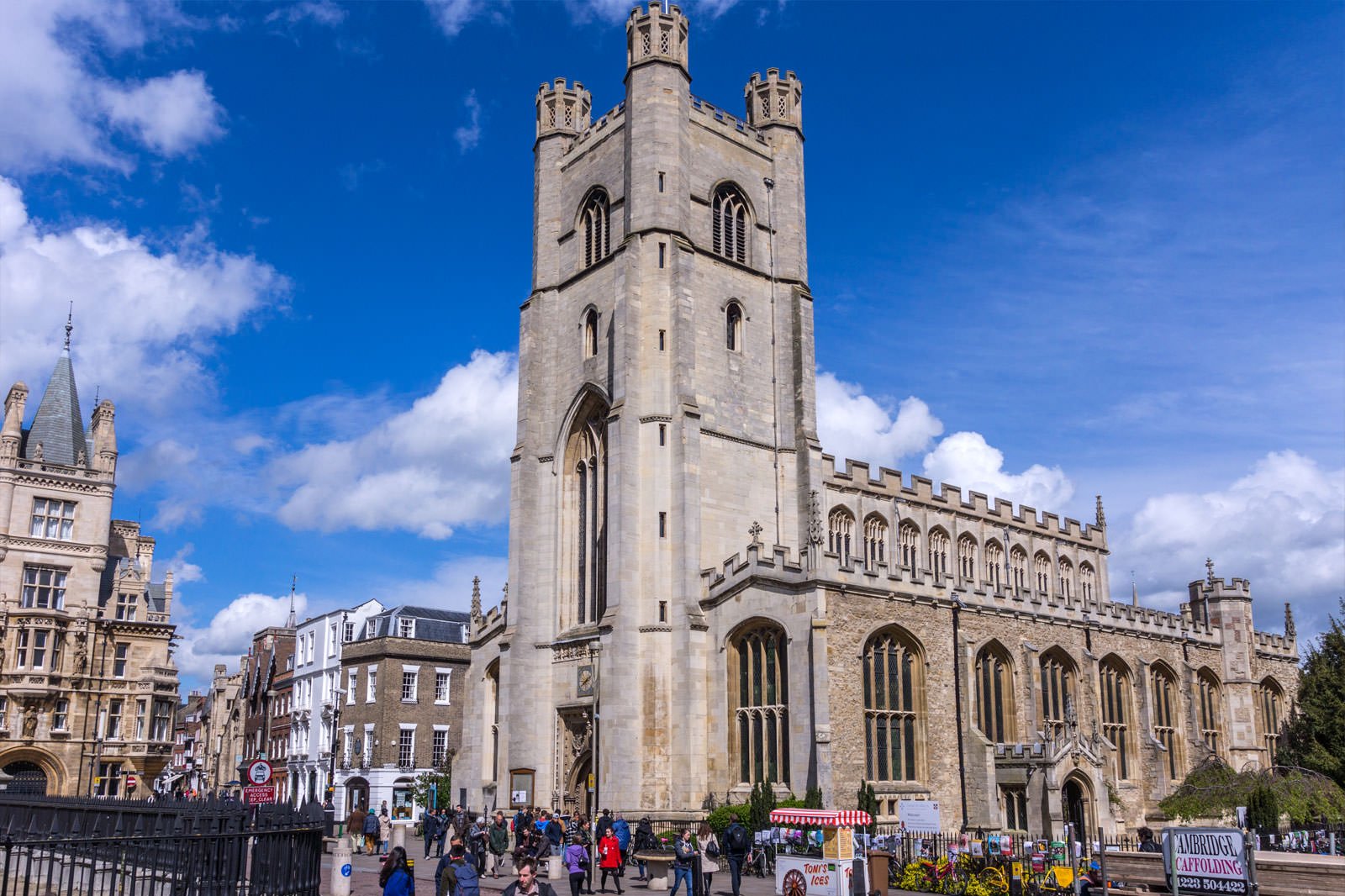 Shopping
Where To Shop
Your first few days at our luxury Cambridge student accommodation will be all about finding your bearings and understanding where things are and how to get there. Shopping is going to be an important part of your time living independently as a student, as we all need to buy food, clothes, and other items. With Cambridge being such a compact city it is easy to find everything you need within walking (or cycling) distance, and you'll find the supermarket chains that you know and love, as well as local stores and shops to help you purchase your food and other grocery items to make the best of your spectacular modern kitchen appliances in your lovely apartment.
Aside from that however, there is plenty to explore and love in Cambridge when it comes to shopping. Through a quick exploration of the streets you'll find high street brand names and stores and modern shopping centres, alongside classic markets, vintage stores, and independent and quirky boutiques. There is something for everyone when shopping in Cambridge. Best of all, its all so close to your elegant and modern student accommodation in Cambridge.
Shopping Centres
The Grand Arcade is set in the very beating heart of the city and is an award-winning shopping centre that is home to plentiful restaurants, cafés and coffee shops, as well as over 60 of the biggest names in retail. Another modern shopping centre for you to explore is the Lion Yard Shopping Centre. Here, you can find over 40-stores set over two floors. It is a stylish shopping experience where you can find everything from crafts and gifts, to jewellery and high-end fashion. It also has a few restaurants and food outlets to help you overcome hunger after a few hours of shopping. Both of these shopping centres are located dead central in Cambridge and are very easy to find. Just a short ten-minute walk out of the city centre is The Grafton, another big, modern shopping centre, that is home to over 60-stores with all the big brand names you know and love. It also has food outlets and a big cinema!
Independent Stores
There is more to shopping in Cambridge than just big name brands and high street stores though. There are loads of great independent retailers to explore and find, with hidden gems all over the city, depending on your specific taste. One of the best places to start is the traditional cobbled market square, which is open seven days a week and is home to countless retailers. Market Square is certainly a fantastic way to get to know the city when you first move into your stylish student accommodation in Cambridge, and every Saturday there is also the All Saint's Garden Art and Craft Market.
A wide range of independent boutiques and vintage stores can be found walking around Magdalene Street, Rose Crescent, Trinity Street, and Bridge Street, to name just a few. Mill Road is another great place to find chic boutiques and interesting stores.
Eating
The Best Places To Eat At
Our elegant student accommodation in Cambridge is close to all of the best cafés, bars and restaurants you could ever need. It's easy to find any type of cuisine to suit your taste buds. The main section of the city where most of the restaurants are situated is only a 20-minute walk away from your new home, but you can cut that journey time down significantly using public transport or by cycling. It is a compact and vibrant city, with food on offer to help set you up for a hard day of work, for light bites at lunch, or for a big meal with your new friends at night. There's even plenty of good choices to help you find some greasy and tasty treats late at night after a student night out, or a hangover-breaking breakfast the next day!
Restaurants And Cafes
There are so many different restaurants and cafés to suit your food and drink desires in Cambridge that it is a great way to get to know the city when you first move here. TABANCO is a Spanish and Portuguese restaurant that is well worth a visit, whilst you can also roam around the city and find a fine selection of Italian restaurants, Vietnamese, Thai, Indian, and American barbecue-style food outlets to satiate your hunger.
In terms of cafés you will never be disappointed during the day. The Urban Shed is a real tasty treat, with a wide range of affordable sandwiches, healthy plates, cakes, coffees, and also vegetarian, vegan, and gluten-free items. The Bould Brothers café is the perfect place to sample an authentic English café experience, whilst Aromi is the equivalent Italian café. For hearty breakfast options The Copper Kettle is a firm favourite with students over on King's Parade, and this is also a great place to sit and relax with a cuppa in hand for an hour or so. Fitzbillies is an absolute Cambridge institution, serving its famous Chelsea buns since 1921.
If you are looking for a lunchtime treat after a hard morning at university, and to prepare you for the afternoon ahead, there are several places worth checking out. These include The Pint Shop and its two courses for a tenner during the week, The Cambridge Chop House, and Galleria. The Eagle is world famous as the pub where Watson and Crick announced the discovery of DNA, but it is also a place where you can get real old-fashioned, and incredible tasty British pub grub without breaking the bank.
Nightlife
Go Explore!
It is so handy to live in comfortable, high-spec Cambridge student accommodation that is well placed in the city. What it means is that you have the perfect home and location to explore the many pubs, bars, and nightclubs that this great city has to offer. As it is such a compact city centre, whether you choose to walk, cycle, use public transport, or get a taxi, you'll never be too far away from the action.
Pubs And Bars
Cambridge has some fine examples of pubs and bars, many with spectacular views of the city and of the River Cam. Some places you should definitely check out include The Mill, which overlooks the river and is a comfy, retro pub, The Pint Shop, which is home to wide selection of fine craft ales and beers, and the Cambridge Brewhouse, which is set in the very heart of Cambridge and is a warm and welcoming environment to students, tourists, and locals alike. The Eagle is another fine example of an olde traditional English pub. It was built in the 16th century and is right next door to King's College and Corpus Christie, as well as a whole host of other traditional real ale pubs and the like. For pubs, there are few city centres better than Cambridge, and with such history, tradition, and great architecture around, it's easy to see why so many people fall in love with the pub culture here.
With such a long and cherished history as one of the oldest universities in the world it is no wonder that Cambridge has the ability to offer some fantastic student pubs and bars. As you can see above this includes so many traditional pubs that you can have a quiet pint in during the day, make new friends with locals at the bar at any day of the week, and to pre-drink in before the big student nights out. The pubs are fantastic, but there is more to Cambridge as a student than that, starting with the very lively Students' Union bars.
Clare Cellars 
There is at least one bar at each college, with a different vibe to each. These are great place to make life-long friends and to experience specific college nights and themed parties for different societies etc. Clare Cellars is one of the most enchanting of the college bars, located in the cellars of Clare Chapel in the crypt. You can drink cheap drinks, see live music, and dance away to your hearts content. There is a different DJ here every Friday night playing drum and bass, hip=hop, and dubstep, with Saturday night switching vibe completely and offering up live jazz and a more relaxed and sophisticated affair.
Clubs 
Away from the college-specific student bars though you are never far away from some cracking bars and clubs, some with student nights to enjoy. 2648 is a nod to the original Motown Records address in Detroit and that's exactly the type of music you can expect to dance to here, at this Motown-inspired bar. They also have a great cocktail promotion Monday to Friday (5pm-9pm). Hidden Rooms is an underground bar in an old Victorian Roman Baths, which has a sumptuous Cocktail Club at weekends, whilst Lola Lo is the place to go for all things Tiki and a tropical night out on its roof terrace.
The Arts & Attractions
Events & Attractions
It is no wonder that there are so many great attractions and sites to see in this historic city. Your luxury Cambridge student accommodation is in the perfect location to easily visit all the beautiful museums and art galleries in town, as well as being in the best place to attend some of the fine events that take place throughout the year.
Museums
Outside of London you'll struggle to find as many museums and art galleries as in Cambridge. There is so much to see and do here, with the famous Fitzwilliam museum one of the best places to start. It is an eye-catching part of the city skyline, but more important is home to over half a million artworks, with history showcases from as far back as 2500BC. It is an extremely interesting place to spend a day. Two of the university museums are also incredibly important in the field of anthropology, archaeology, and zoology, with many other historic buildings and museums to explore throughout the city. The Ruskin Gallery, Kettle's Yard Gallery, and the New Hall art exhibition are fine examples of gallery space in the city.
Festivals
For events you can take in the twice-annual Cambridge Literary Festival, which hosts world-renowned authors, and workshops from some of the finest thinkers around. Cambridge Folk Festival and Cambridge Jazz Festival are two great examples of music festivals in the UK, and are some of the leading festivals in each genre in the world.
Live Entertainment
If comedy is something you are interested in you can watch performances by The Cambridge Footlights, which is one of the oldest sketch comedy troupes in the country and has been home to some of the most notable names in comedy and entertainment, from Monty Python, Peter Cook, Stephen Fry, and Olivia Colman.
Sports
Stay Fit & Active
There is plenty to see and do in Cambridge and the surrounding areas if you are an active person. University is a fantastic place to explore new sporting interests and hobbies, whether for the purposes of keeping fit taking on a solitary sport, or joining a team to make new friends and to have some fun. For those looking to partake in spectator sports there is also a wide array of sports to enjoy, including Cambridge United who play in League Two at The Abbey Stadium. No matter what type of sporting activity you want to take part in, or whether you want to go out and watch some live sport, your new home at our luxury student accommodation in Cambridge is just a short walk away from everywhere you need to be.
Outdoor Activities
If you are a person who loves the great outdoors Cambridge is a truly beautiful city. It is a fantastic place if you are into cycling, or want to get into cycling. It is very easy to get around on a bike day-to-day, but there are also some brilliant cycling routes around the city and just beyond. With many green parks and wide open spaces, and some great countryside adventures just on the boundaries of the city you can find plenty of nature reserves and hiking trails to go walking in during your spare time – including Beechwoods, Trumpington Meadows, the botanical gardens within the university, and the LNR nature reserve.
Sports Centre
The Sports Centre at the university is outstanding, and has certainly benefited students since it was opened in 2013. There are a range of high-specification sports facilities to be found here, including a fully functioning sports hall, courts for multiple indoor racquet sports, a gym, a team training room, and a strength and conditioning suite. Athletes competing at an international level use some of these sports facilities. There are also dedicated facilities for those looking to join teams and clubs and compete in sports such as football, rugby, tennis, hockey, athletics, and cricket.
Success
The university is proud of its sporting tradition, and has been home to many successful Olympians and Paralympians over the last 150 years, as well as elite cyclists and international-level cricketers, to name just a few sports. There are over 75 sports clubs and societies to take advantage of, and also scholarships for those aiming to become elite athletes in their chosen sporting field.
Rivalry
Cambridge and Oxford universities have an age-old rivalry in sport, with the Boat Race the most famous example of this. It has run since 1829, and annually on the London tideway since 1856. It isn't the only annual sporting event between the two universities however, with big Varsity Matches taking place in over 140 matches each year, including the Rugby Union match played at Twickenham in front of over 15,000 people regularly, and the football match, which has been played at professional stadiums such as Craven Cottage and Selhurst Park.
I have chosen to return to Raleigh because it is in a convenient location for my studies. Staff are always really helpful and friendly and can sort out any problems/issues you may have.
Holly-May Machin, BSc Nursing, University of Nottingham