Our Essex Accommodation
From £200.97 per week
The Oaks and The Poplars at The Copse has 643 single ensuite rooms and studios that are nestled between The Meadows and the Essex Business School.
Room types
En-Suite
Studio
From £187.74 per week
The Meadows is located a 12 minute walk from the centre of campus where you will find the Albert Sloman Library, SU bar, SU Shop, eatery outlets and plenty more. It is also a 14 minute walk to our gym and other sport facilities located on the edge of the University campus.
Room types
Shared Flats
Self-Contained Apartment
From £179.34 per week
The Quays is located a 16 minute walk from the centre of campus where you will find the Albert Sloman Library, SU bar, SU Shop, eatery outlets and plenty more. It is also a 18 minute walk to our gym and other sport facilities located on the edge of the University campus
Room types
En-Suites
Self-Contained Apartment
About Essex
As Britain's oldest recorded development, the city of Colchester is steeped in over two thousand years of history after being founded by the Ancient Romans, and it's also where our main university campus is located. But it's not just Colchester that has lots for you to explore.
Situated on one of the longest coastlines in England, Essex has a strong connection to the sea, and offers an array of delicious food. Not far from Colchester is Mersea Island, known for its world-famous Oysters, and freshly caught fish.
That's not all the coast has to offer. Southend-on-Sea has the longest pleasure pier in the world, where you can play crazy golf and taste the best traditional fish and chips. You can also jet off to Europe through the local Southend Airport.
Less than 30 minutes from Central London, our third campus in Loughton can be found just outside the hustle and bustle of the capital. For our East 15 students, this town serves up a buffet of bars and restaurants and lively entertainment. For a touch of tranquility, Epping Forest is right on your doorstep for horse riding, mountain biking or wildlife spotting in a picturesque setting.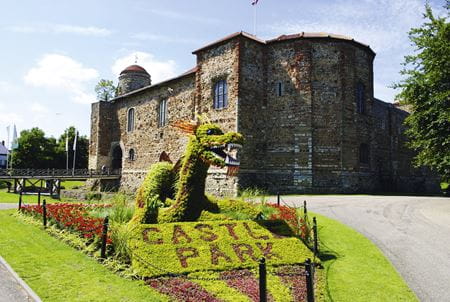 Shopping
Shopping in Colchester City Centre
Colchester city centre offers a varied shopping experience, with wide selection of independent shops, nestled alongside department stores and big highstreet brands as well as offering regular market days and plenty of restaurants, bars, and street food vendors. And with good links to shopping centres in Ipswich, Chelmsford, Braintree, London, Lakeside and Bluewater, you'll be able to shop until you drop while you're here.
Nearby Supermarkets and Shopping Centres
Restaurants, bars and nightlife
While Campus boasts its own lively selection of restaurants and bars to keep you entertained between study sessions, sometimes it's nice to switch up the scenery and head off campus into the main city centre.
Three Wise Monkeys - One of the most popular venues in Colchester, from live music entertainment to a basement bar serving an array of fifty artisan gins, Three Wise Monkeys have got it covered. On the ground floor, you'll find a large Tap House with over 30 beers to choose from plus wine, spirits, cocktails as well as soft drinks. But there's more than just gin and beer. With a restaurant serving a varied selection of salads, hot dogs and signature gourmet burgers, they also cater to vegetarian, vegan and gluten-free appetites.
North Hill Noodle Bar - Pan Asian cuisine at it's finest. The Noodle Bar restaurant is as popular as ever, serving a range of dishes from Pad Thai Noodles to Kung Po Chicken, with a selection of side dishes to rival the mains. To save yourself from missing out, it's best to reserve a table a weekends and enjoy the cosy ambience inside.
The Arts & Attractions
Colchester is a cultural hub with plenty of artistic flair. The city has a great selection of theatres, museums, and galleries hosting an exciting programme of exhibitions, performances, and events throughout the year.
Colchester Arts Centre - is home to the weird and the wonderful – Burst into laughter with cutting edge comedies, dance the night away alongside the freshest DJs and musical talents, or wander around exploring the Farmer's market. All of this and more is waiting for you under one converted church roof in this vibrant venue, central to Colchester. 
Mercury Theatre

 - The most active producing theatre in East Anglia, Mercury Theatre, is nestled right here in the heart of Colchester. With two auditoriums boasting combined seating for more than 580 people, this exciting venue hosts everything from Grease to Macbeth, and how can we forget to mention the good old Christmas Pantomime (He's behind you!). In addition to regular performances, comedy nights, and dance shows, the theatre also gives you a generous student discount.
Firstsite - Be inspired through innovative art and immersive learning opportunities from a real variety of local and regional artists at Colchester's visual arts gallery, Firstsite. You'll be spoiled with choice from a wide range of exhibitions, events, workshops, films, and dance screenings to get involved in.
Coastlines, beaches and water sports
With more than 350 miles of shore, Essex boasts the longest coastline in the country, and the Colchester Campus is ideally positioned for a day out, filled with adventure and fresh sea air.
Beaches - Head to Clacton-on-Sea or Walton-on-the-Naze for lively beaches and piers packed with activities; or follow the River Colne to the sleepy shore of Brightlingsea for a relaxing stroll.     
Mersea Island - Colchester is a gateway to the UK's most easterly inhabited island, Mersea. The island has two distinct halves, covering roughly seven square miles. Head West for water sports, a shingle beach, and world-famous oysters and seafood; or head East for a peaceful walk among rural farmlands, a country park, and a local wine vineyard.
Wivenhoe - The Colchester Campus backs onto the quaint village of Wivenhoe; the ideal location for scenic walks along the quay, a spot of paddle boarding, a browse in the village bookshop, and a hearty pub lunch. 
River Colne - The River Colne runs through Colchester, out to the sea, offering plenty of wonderful scenery en route. Take a walk alongside its banks, to explore the Hythe Port, lower Wivenhoe, and the picturesque estuary.
History and Heritage
As Britain's oldest recorded settlement, Colchester has a rich and varied heritage stored in its fascinating tale of Roman, Saxon, and Norman history. Today, you can delve into the historical roots of the town by visiting its local museums, galleries, and ruins.
Colchester Castle and Park - As one of England's most treasured heritage sites with historical roots dating back to a time when Colchester was the first Roman capital city of Britain, the city's castle is well worth a visit. Step back in time and explore a rich cultural history of more than 2,500 years through a wide array of interactive displays and exhibits, or take a peaceful walk around the beautiful surrounding landscaped gardens.
Historical walks - Simply enjoying a leisurely walk around the centre of Colchester will show you that experiencing the city's deep historical roots doesn't need to cost a fortune. Whether you prefer to explore at your own pace, or book a guided tour, the town has plenty of historical hotspots to uncover. From its impressive Roman Walls, to Balkerne Gate and St. Botolph's Priory ruins, the quaint Dutch quarter, and St John's Abbey Gatehouse all just a stone's throw away from one another – you'll definitely be spoiled for choice. 
Countryside, villages and natural beauty spots
Constable Country - Our Colchester Campus is nestled on the edge of the 'Constable Country', home to the rural areas around Dedham and Flatford, that were made famous by artist, John Constable. Why not take in the views of this beauty spot in all its glory by hiring a rowing boat along the River Stour for the afternoon? Dedham has an official status of an Area of Outstanding Natural Beauty and also offers stunning woodland vistas across 40 acres of vines and pastures at its Vale Vineyard, the perfect space for a relaxing walk or cycle ride.
Fingringhoe Wick Nature Reserve -  Essex Wildlife Trust's first nature reserve and visitor centre sits within the banks of the River Colne, giving you spectacular views of wild species across a diverse collection of natural habitats and terrains, making it well worth the trip.