Our Wrexham Accommodation
From £63 per week
Snowdon Hall student accommodation offers all-inclusive rent with en-suite rooms close to Glyndwr University. Wrexham is a popular place to study for students.
About Wrexham
With two National Trust properties and a number of parks, galleries and museums, Wrexham is an ideal choice for students wishing to experience the best of modern living in a compact and welcoming town.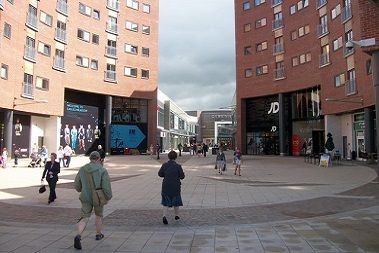 Shopping
With three indoor markets and a weekly outdoor market, Wrexham is a favourite with bargain hunters. For those looking for bigger brands, there is the Eagles Meadow Shopping Complex, a modern development housing high-street stores, restaurants and cafes, as well as a cinema and bowling alley.
Eating
Wrexham is a compact town which means you're always close to great places to eat. Take a look at some of the best restaurants in Wrexham:
The Nags Head – classic pub dishes that will make you go back for more. Good food, great service and decent prices!
Cleopatra's Bistro – great place to eat with a large variety of dishes and friendly staff. The menu leans towards Mediterranean food and the dishes are simple, delicious, fresh and healthy.
Music
Wrexham has a busy music scene, with big names and up and coming bands regularly playing the Central Station venue. There are several other live music venues in Wrexham, including:
Nightlife
Wrexham has a buzzing nightlife! There are several bars, clubs and pubs to choose from, including Wales biggest nightclub – Liquid and Envy. There are other great places you could go to on a night out too, such as Voodoo Moon. This awesome little place has a lovely atmosphere, tasty cocktails and friendly staff.
The Arts & Attractions
Oriel Wrecsam is the main visual arts centre in Wrexham which was recently moved to Chester Street. Wrexham has several theatres including the Riverside Studio Theatre, Grove Park Theatre and the Yale Studio.
Located in town, the Wrexham County Borough Museum is a fantastic small local museum which is worth a visit too. It's a great way to get to know more about local history.
Sport
Wrexham has its own professional football team, currently competing in the National League. Formed in 1864, Wrexham FC is the third-oldest professional football club in the world. Opened in 1807, The Racecourse Ground is the club's home stadium and is owned by the Glyndwr University.
Wrexham also has a professional Rugby League Club in the Championship division – North Wales Crusaders. Other sports you will come across in Wrexham include basketball, hockey, athletics, golf and more.
Getting Around
Wrexham is a fairly small town so it's very easy to get around. Going on foot is a good option as almost everything is within walking distance. However, if you prefer public transport, then the bus has great links all across the town and local villages around Wrexham. There are also train services from Wrexham Central Station to Wrexham General Station which you might want to consider.
Raleigh is brilliant help is always on hand! The location is perfect for uni, nightlife and shops. The staff are always helpful.
Sophie Minton, Paediatric Nursing , University of Nottingham
This site uses cookies to improve your online experience. By continuing to use this site, you agree to accept these cookies. To hide this message, click here.