193 Shoreham Street, Sheffield S1 4RA
0114 294 5680
[email protected]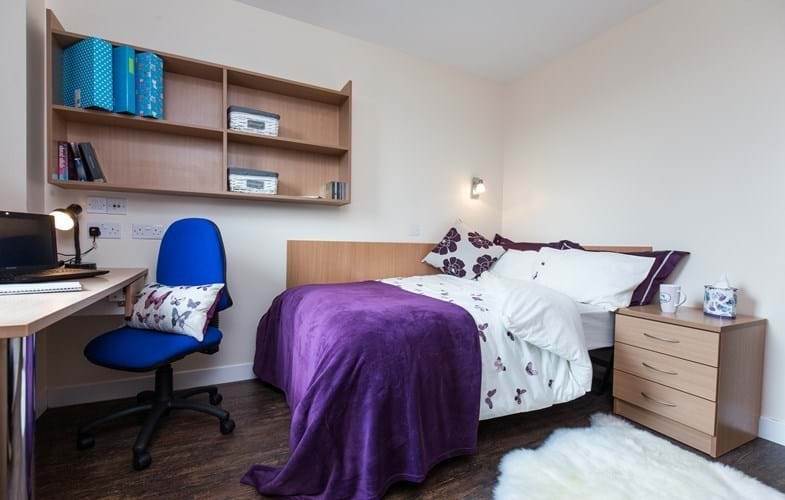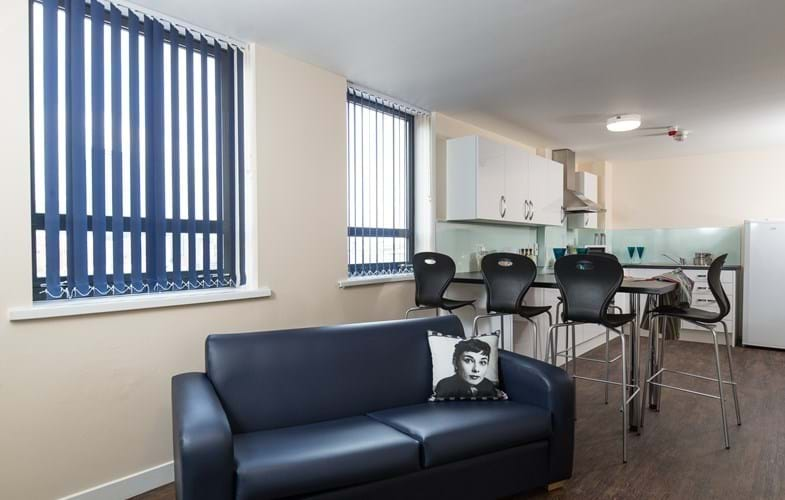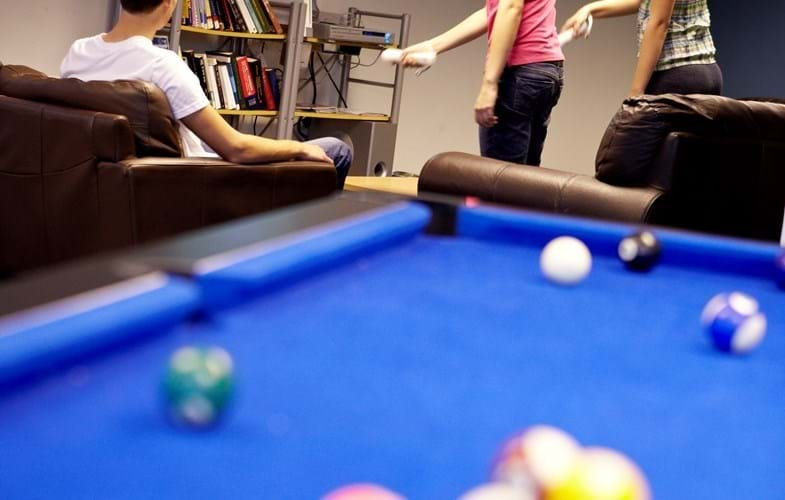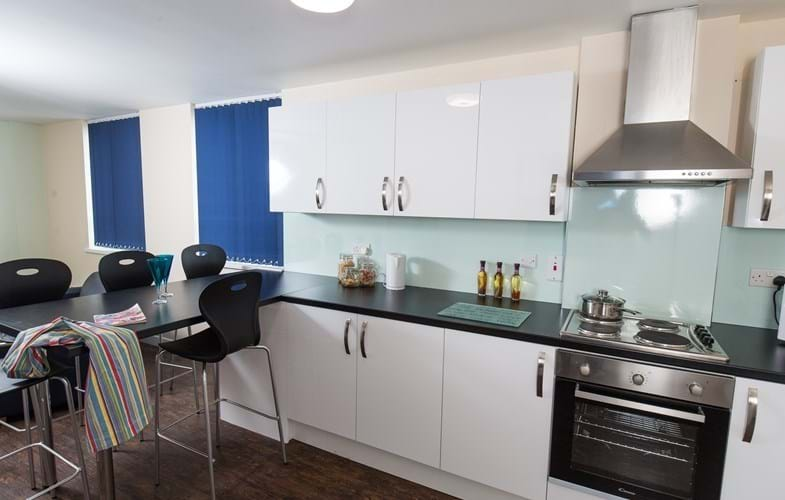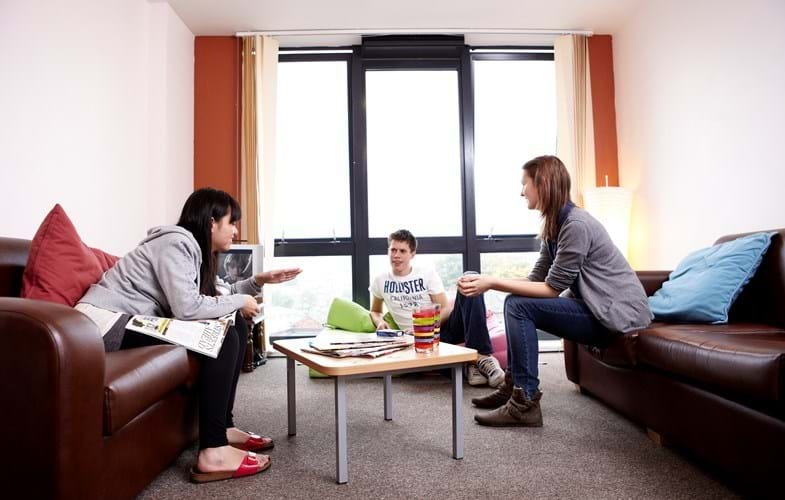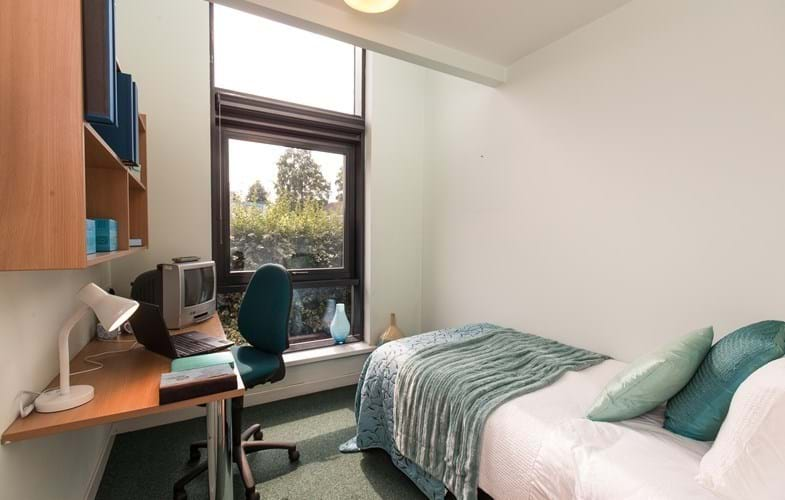 Our location
Only a short 5 minute walk away from The Trigon is Sheffield Hallam University City Campus. The Trigon, a modern student accommodation complex offering mixed cluster flats of 3, 4, 5 and 6 beds, giving students plenty of choice. Book your room now via the Sheffield Hallam University website.
Read more
Back to top
Room types and prices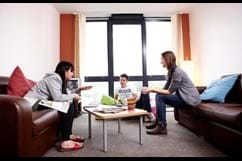 Perfect for living with your friends without having to share a bathroom!
Standard En-suite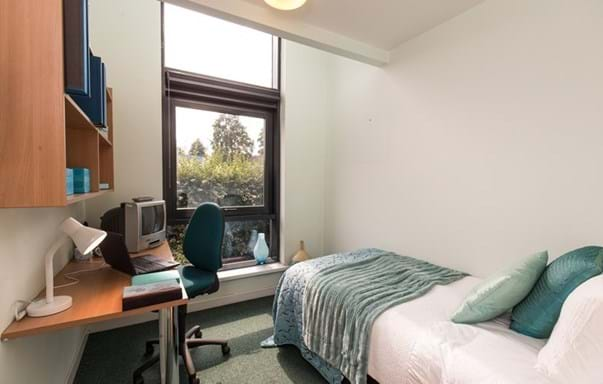 Rooms are equipped with a single bed with underbed storage, desk, lamp, chair, wardrobe, bookshelf, pin board and chest of drawers. The en-suite bathroom comes with a shower unit.
44 Weeks
Contract start date:
21/09/2019
Rent per week £108.00
Total cost £4,752.00
Book now
Standard Plus En-suite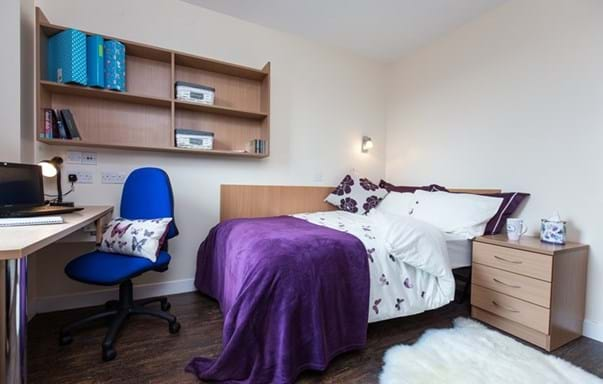 Rooms are equipped with a 3/4 bed, desk, lamp, chair, wardrobe, bookshelf, pin board and chest of drawers. The en-suite bathroom comes with a shower unit.
44 Weeks
Contract start date:
21/09/2019
Rent per week £111.00
Total cost £4,884.00
Book now
Back to top
Images are for illustrative purposes only, each room type is different in style and size depending on location within the building. 
All bookings are done through Sheffield Hallam University please to go their page for further information and to book your room. 
Essential information
FAQ's
Documents & policies
We understand that you may have a lot of questions before moving into your new room.
Below is a list of FAQ's to help answer any questions you may have.
If there is anything you still need help with please do not hesitate to get in touch!
I'm applying through clearing, when can I book a room?
If you have gone through clearing and now have a place at University, you can still book accommodation with us. Check the room availability above, or call us on 01158553670.
My offer has been rejected by the University, can I cancel my booking?
Yes, please screenshot your rejection letter from UCAS along with your name and reference number. Send them to
[email protected]
within 3 working days to receive your full deposit back.
How close is the university?
Sheffield Hallam University is a 5 minute walk; the Collegiate Crescent Campus is a little further - a 15-20 minute walk.
Who looks after my deposit?
Your deposit is safely stored away with a company called
DPS
you can contact them on 0330 303 0030.
How far is the city centre?
- A 7 minute walk.
Where is the nearest supermarket?
There is an Aldi up the road; a Coop in the city centre; and an Asda 10-15 minutes away. A small Sainsbury's Local is situated to the rear of the site.
Is there a medical centre nearby?
You will need to register with the University Medical Centre on the main City Campus, but there is a chemist on Shoreham Street.
Where is the nearest cashpoint?
At Sainsbury's Local.
Where is the nearest police station?
Snig Hill S3 8LY
Where is the nearest post office?
A 3 minute walk away on Shoreham Street.
Where is the nearest gym?
There is a Pure Gym opposite the site and excellent gym facilities on Hallam's City Campus.
How far are the bus/train stations?
Both are a 5 minute walk away on Shoreham Street.
Where's the nearest bus stop?
There are both bus and tram stops nearby.
What's in my room?
Your room is fully furnished with: single or 3/4 bed, bedside drawers, desk, chair, shelves, wardrobe and noticeboard.
What is included in the kitchen?
Kitchens come equipped with: cooker, microwave, fridge/freezer and kettle. We also have kitchen and bedroom packs available through UniKitOut which offer everything from utensils to crockery. If you would like to find out more about these click
here.
Who cleans my flat?
You are responsible for cleaning your room and for cleaning your communal areas with your flatmates.
Can I bring a pet?
Sorry, pets are not permitted on any Derwent Students properties.
Where can I do my laundry?
There is a laundry on site. We use a top-up card system.
Can I personalise my room?
You can personalise your room using accessories and bedding, which you need to provide yourself. We ask that you don't put posters on your walls as any damage caused will be chargeable.
Can I have guests to stay?
Guests are permitted for a maximum of 2 consecutive nights. Please sign them in at reception on arrival.
Can I bring my car?
Unfortunately there is no parking available and due to our central location you may find street parking difficult.
Is there anywhere I can store my bike?
There are 2 cycle stores. You will need to obtain a key and you must insure your bike and have a bike lock. Bicycles are not allowed to be taken into the accommodation.
Where do I collect my post from?
Post is delivered to the post boxes in the foyer of your block. Parcels can be collected from reception upon receipt of a slip in your post box notifying you that there is a parcel for you.
How do I report maintenance issues?
You can visit reception and fill out a repair slip. We will log and effect your repair as soon as possible.
Can I change my room?
Transfers depend on availability. Please see the team in reception.
Do I need to have a TV Licence?
You will need to purchase a TV licence if you wish to watch or stream live TV in your flat.
What events do you arrange on the site?
We arrange several events throughout the year, including a welcome BBQ and a Christmas Quiz. Please see information on site.
What facilities are there on site?
Common room with Freeview, flat screen TV, surround sound DVD system, Wii console and pool table; courtyard table tennis table; covered decking and picnic area.
Can I store my possessions in the summer?
If you are returning for the following year and are staying in the same room, you may be able to leave your items. It will be your responsibility to box all items and label them.
Can I book for summer?
We offer summer contracts subject to availability. Please contact us at least a month before the end of your contract.
Can I arrive early?
Please contact the site team to check whether your room will be vacated and cleaned by the time you want to arrive. There will be an extra charge for early arrivals.
What about safety and security on site?
All blocks are key entry, as are your flat and your room. We have staff on site 24/7 for your safety and you will be given a number for contacting staff in emergencies. You have a intercom system to your apartment.
What is included in my internet package?
Included - 50Mbps, free for the year Wired and Wi-Fi Internet access will be available throughout the building including your rooms and communal areas. For additional services click
here.
Download useful and important policy documents and agreements below.
Back to top