Our Sheffield Accommodation
From £128 per week
One Brittain Street, new studios and 'Twodios' popular with Sheffield Hallam University students. Includes en-suite, shared kitchen/diner with one other student.
From £125 per week
High quality student accommodation for Sheffield Hallam University & in Sheffield City Centre. A quiet environment perfect for final year or postgraduate students.
From £110 per week
The Trigon is popular with Sheffield Hallam University and it's variety of cluster flats. Every student has an en-suite room and enjoys all the on-site facilities.
About Sheffield
Sheffield is a diverse city with a vast range of attractions, including a lively music scene, amazing food, tons of entertainment options and great shopping. The city is also incredibly green and boasts many natural spaces, including the Sheffield Winter Garden (pictured), the Peace Gardens and the Botanical Gardens.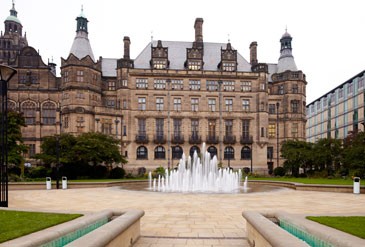 Shopping
The shopping is of a very high standard here with designer boutiques and department stores aplenty.
The most well-known names in shopping:
Meadow Hall - offers an abundance of shops where you'll find everything – from that little black dress to blue suede shoes
Ecclesall Road - is a mile-long stretch of fashion boutiques and up-market stores.
Fargate
Devonshire Quarter
Eating
Sheffield is packed with restaurants and gastro pubs to delight any appetite and budget.
Here are some of the best restaurants in Sheffield:
The Hidden Gem – it's a real 'hidden gem', with friendly staff, excellent service and amazing food.
Cossack Cuisine – this restaurant offers a wide variety of delicious international food along with great service and a lovely atmosphere. You will definitely want to come back.
Edo Sushi Takeaway – a very small place that offers great sushi and light Japanese dishes. You get good value for money and the service is always very efficient, chances are this takeaway will become your go-to-place for Japanese. 
Nightlife
Sheffield has a thriving nightlife with numerous places that guarantee a great night out. If you're looking for traditional pubs, you might want to check out the Kelham Island area, just outside the city centre. The Fat Cat on Alma Street is one of the best pubs you'll find, definitely worth checking out. The Harlequin, Kelham Island Tavern and The Riverside are other traditional pubs you can find in this area.
In the city centre, the buzzing and lively bars can be found on West Street, an area very popular with students. Make sure you go to:
The Arts & Attractions
Sheffield has two major theatres – the Lyceum Theatre and the Crucible, which together with the smaller studio make up the largest theatre complex outside London. The Showroom is Sheffield's independent four screen cinema situated in the heart of the Cultural Industries Quarter, one of the biggest in the UK.
Sport
Sheffield has a long and rich sporting heritage, especially when it comes to football. Founded in 1857 by a group of cricketers, Sheffield F.C. is the world's first-ever official football club. And that's not all! Hallam F.C. is the world's second-ever official football club and is based at the world's oldest football stadium – Sandygate Road, located in the suburb of Crosspool. By 1860, there were 15 football clubs in Sheffield. Sheffield United (The Blades) and Sheffield Wednesday (The Owls) are the biggest teams in Sheffield.
Football is not the only popular sport in the city. The Steelers represent Sheffield in ice hockey, the Tigers in rugby and the Sharks in basketball.
Music
Sheffield is one of the best cities for live music in the country, hosting festivals such as Tramlines Festival and Sensoria Music & Film Festival. There are several live music venues in Sheffield, including:
Getting Around
Although a very large city, you'll have no trouble getting around Sheffield. The tram and bus networks are very efficient and cover every corner of the city. If you prefer walking, keep in mind that Sheffield is built on hills and requires good fitness, so be prepared for hilly terrain or consider public transport.
A great community of students brought together, Nottingham1 is not just a halls of residence its been a home away from home for the past 3 years!
Jenani Umasuthan, Mpharm Pharmacy - 4th Year Student, University of Nottingham