Capital Gate, 20 Daulby Street, Liverpool L3 5NT
0151 707 6449
capital.gate@studentroost.co.uk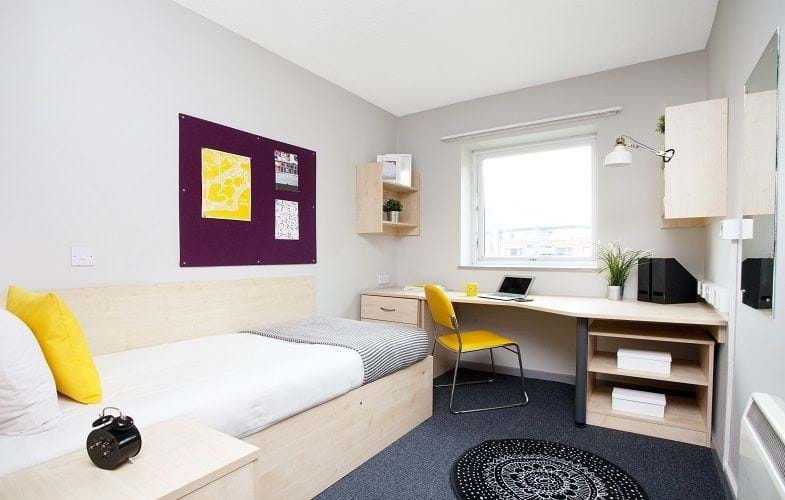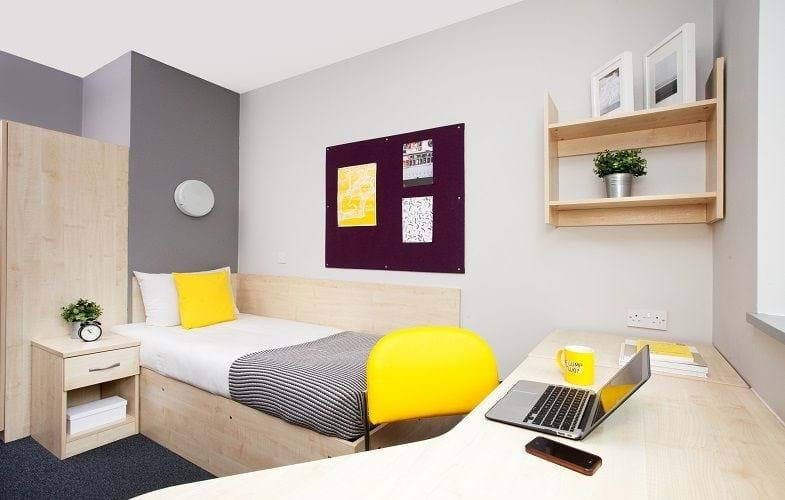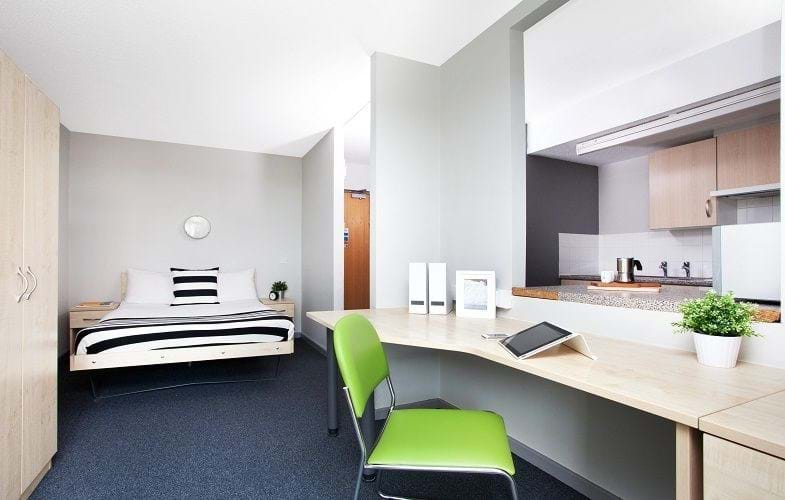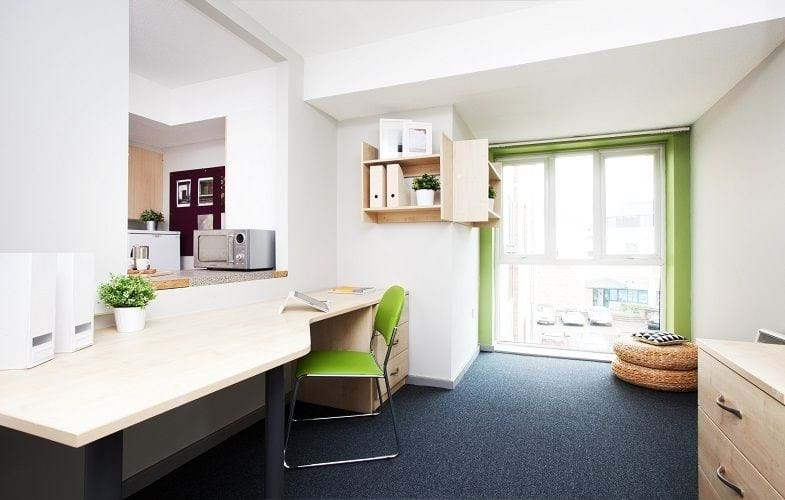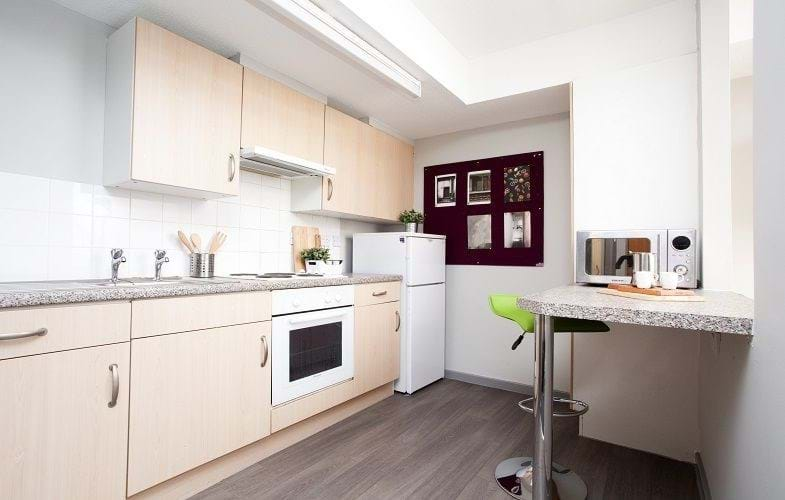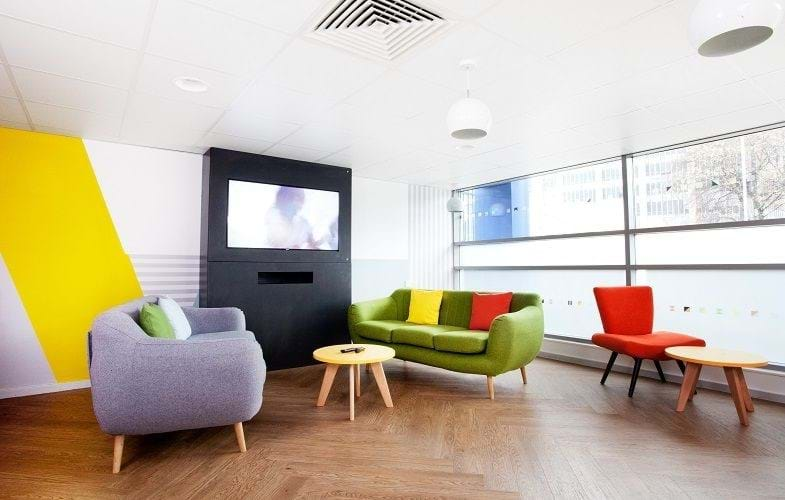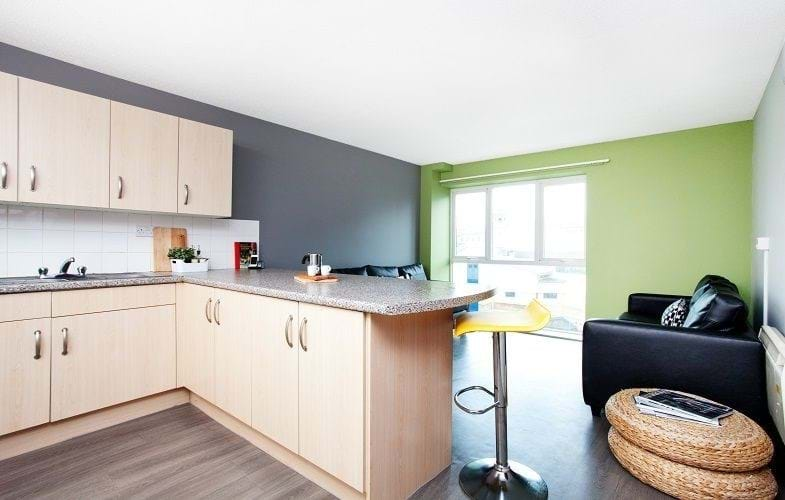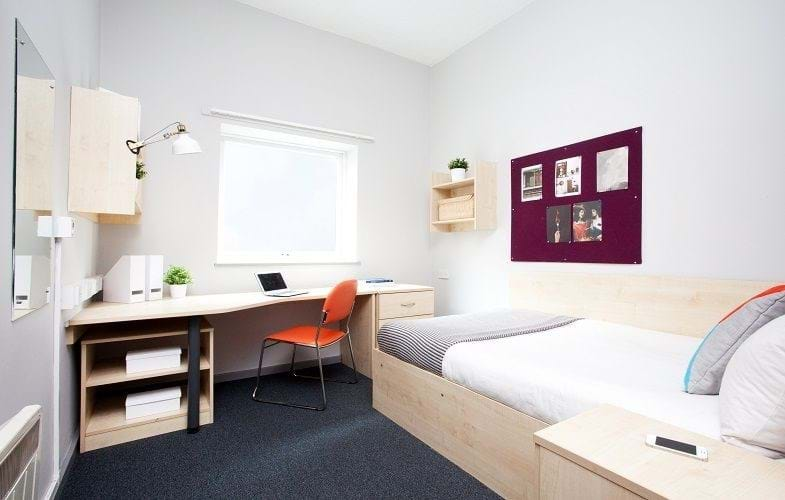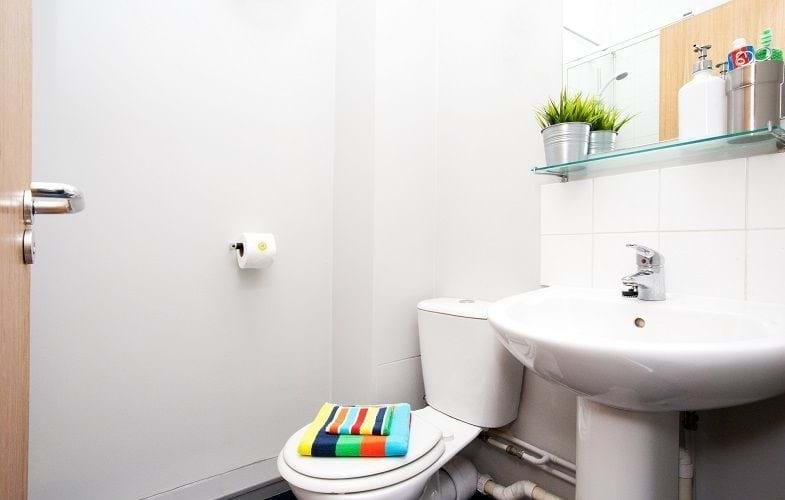 Our location
Capital Gate is in a great central location, within close proximity to all the universities in Liverpool. There are plenty of local amenities near by such as supermarkets, takeaways, restaurants and shops. With just a 10 minute walk you will be right in the heart of the city where you will find the shopping centres and great night life. If you don't fancy walking, there are good transport links into the city centre too.
Read more
Back to top
Room types and prices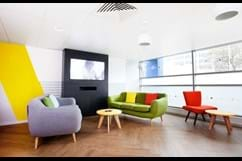 Ideal for living with your friends without having to rush to the bathroom!
Back to top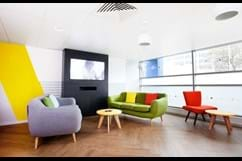 Home sweet home just for you without having to share with anybody else.
Classic Studio 2017/18
A comfy double bed just for you as well as your own fully fitted kitchen and shower room with toilet and sink. There's a study space with desk and chair, a wardrobe, drawers, shelving and under bed storage. Typical rooms are 6sqm.
43 week contract
Contract start date:
16/09/2017
Rent per week £159.00
Total cost £6,837.00
Book now
51 week contract
Contract start date:
02/09/2017
Rent per week £181.00
Total cost £9,231.00
Book now
University of Liverpool 39 Weeks Studio
A comfy double bed just for you as well as your own fully fitted kitchen and shower room with toilet and sink. There's a study space with desk and chair, a wardrobe, drawers, shelving and under bed storage. Typical rooms are 6sqm.
39 week contract
Contract start date:
16/09/07
Rent per week £189.00
Total cost £7,371.00
Limited availability
Back to top
Images are for illustrative purposes only, each room type is different in style and size depending on location within the building. 
Please note that you will be required to pay a £250 deposit in order to secure your room.
Essential information
FAQ's
Documents & policies
We understand that you may have a lot of questions before moving into your new room.
Below is a list of FAQ's to help answer any questions you may have.
If there is anything you still need help with please do not hesitate to get in touch!
How close is the university?
The University of Liverpool is a 7 minute walk.
I'm applying through clearing, when can I book a room?
If you have gone through clearing and have now have a place at University, you can still book accommodation with us. Check the room availability above, or call us on 0151 707 6449.
My offer has been rejected by the university, can I cancel my booking?
Yes, please screenshot your rejection letter from UCAS along with your name and reference number. Send them to capitalgate@derwentstudents.com within 3 working days to receive your deposit back.
Who looks after my deposit?
Your deposit is safely stored away with a company called
DPS
you can contact them on 0330 303 0030.
Do I have contents insurance?
Yes! As standard, all Student Roost accommodation is automatically covered by the number one student insurer, Endsleigh. Please review your policy and check to see if you need to upgrade your cover at all. Click
HERE
to check your policy details.
How far is the city centre?
Liverpool City Centre is only a 10 minute walk away.
Where is the nearest supermarket?
There's a wide range of supermarkets around Capital Gate, it's next to a Lidl supermarket with a small Tesco Express five minutes away. A larger ASDA supermarket is on Smithdown Road, a short taxi or bus journey away.
Is there a medical centre nearby?
Capital Gate's proximity to the Liverpool University campus means that it is close to the healthcare and welfare facilities provided by the university. LJMU welfare services are located in the Marybone area on Tithebarn Street.
Where is the nearest cashpoint?
There is a Barclays Bank which is a 9 minute walk away on Brownlow Hill.
Where is the nearest post office?
The Daulby Street post office is a 4 minute walk away.
Where is the nearest gym?
The Sports Centre of the University of Liverpool is less than 10 minutes' walk away. There are a number of lifestyle gyms around the city.
How far are the bus/train stations?
Liverpool Lime Street train station is a 10 minute walk.
Where's the nearest bus stop?
There is a bus stop on London Road near to Capital Gate which takes you into the city centre and other routes into the north of Liverpool.
What's in my room?
Our en suite rooms offer single beds, with storage space and a desk area. You'll have your own shower room with a toilet and sink, and you will have shared kitchen facilities. Our studios offer larger beds and more room, with kitchen facilities included in your studio.
What is included in the kitchen?
We provide a microwave, kettle and toaster for our customers and we also provide an extra freezer for 6 bed flats. We also have kitchen and bedroom packs available through UniKitOut which offer everything from utensils to crockery. If you would like to find out more about these click
here.
Who cleans my flat?
We offer a bi-weekly kitchen cleaning service to our customers in the shared spaces of the flat (i.e corridor and kitchen) these cleans are carried out on the condition that kitchens are in a clean enough state for surfaces to be accessed (we don't clear away bottles or wash dishes for them, just cleaning the surfaces and ovens/appliances etc.).
Can I bring a pet?
Sorry, pets are not permitted on any Derwent Students properties.
Where can I do laundry?
We have an onsite laundry room which operates via Circuit Laundry.
Can I personalise my room?
We have notice boards where students can stick any posters etc. I believe we allow the use of white-tack to stick things up on the walls however no pins/sellotape and any damage to the paint will be deducted from the deposit.
Can I have guests to stay?
We do allow guests who can stay up to a maximum of 2 nights out of 7.
Can I bring my car?
Unfortunately parking space is limited at Capital Gate so we advise people to use one of the nearby car parks, or there is a Lidl Car Park behind the building which can be used for up to 90 minutes.
Is there anywhere I can store my bike?
We do not currently have bike storage we're afraid.
Where do I collect my post from?
We have post boxes in reception and we also sign for parcels at reception. Students will be notified of when a parcel arrives or they can come down and ask.
How do I report maintenance issues?
We now have our very own Repair app. Download the 'Main Manager' app onto your smart phone or tablet and then get the site code from Reception. Enter the code into the app and then you can log any problems you're having with your accommodation.
Can I change my room?
We encourage students to try and work through any issues if they have a problem with flatmates and come to a resolution before resorting to a room move. However, if there is an issue with the room then we ask customers to come to reception and speak to staff directly.
Do I need to have a TV licence?
Yes, if a student wants to bring their TV with them they will have to pay for a TV license. Please refer to the
BBC website
on policy.
What events do you arrange on the site?
In the past we have had pizza nights, quizzes, table tennis tournaments and things like breakfast mornings and free pancakes in reception on pancake Tuesday. We are also in the process of organizing a leavers party with a couple of other nearby sites for those who are graduating this year.
What facilities are there on site?
Reception - We provide free tea/coffee to students throughout the day. We also have a ping pong table which the students love and we also have a PS4 with Fifa (currently no other games but if we had more multiplayer games we could arrange other tournaments!).
Can I store my possessions in the summer?
If a student is returning in September we will allow them to store 2 cardboard boxes of items with us over the summer period – there is limited space so it's first come first served.
Can I book for summer?
We offer summer tenancies and short term lets for those who want to stay with us over the summer months.
Can I arrive early?
If students want to arrive early we ask that they get in contact with us to see if it can be arranged (depending on if there is someone in their room over summer & what day they want to arrive) as we will have to arrange for the room to be cleaned as a priority before they move in.
Download useful and important policy documents and agreements below.
Back to top