10 Keith Street, Glasgow G11 6QQ
0141 ­433 ­0710
[email protected]
Our location
Hyndland House is set right in the heart of Glasgow's vibrant West End. Spanning six floors and featuring high-spec studios, en-suites and DDA compliant rooms, it offers contemporary urban living with social spaces and events.
The accommodation has an on-site management team, there to help you whenever you need them, along with maintenance teams to help you should anything need fixing. All rents are inclusive of bills, meaning you don't have to worry about paying for extra bills during your stay with us.
The accommodation is within easy walking distance of the University of Glasgow, the University Library and subway links to take you right into the centre of Glasgow. The West End is bustling with local shops and restaurants, many of which Hyndland House students receive exclusive offers at.
Derwent Facilities Management Ltd (trading as Derwent Students) is registered in the Scottish Letting Agent Register. Registration number: LARN1911002
Read more
Back to top
Room types and prices
En-suite Room
Studio Room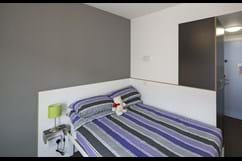 A room with your own bathroom and shared kitchen facilities
En-Suite Room 2023-24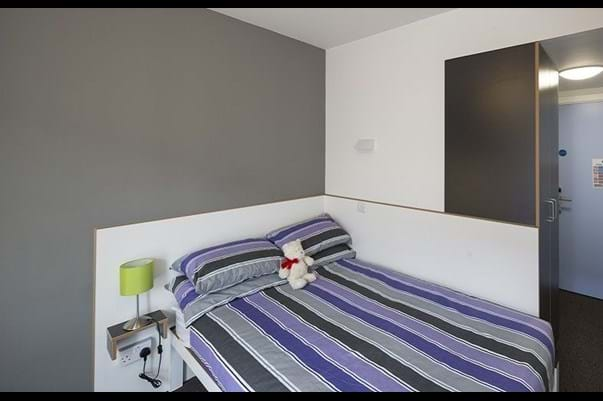 Each room comes with a 3/4 bed, wardrobe, desk and chair, and a bookcase. The en-suite bathroom is spacious, with a shower unit. There is a shared kitchen which comes equipped with a hob, oven, fridge/freezer, microwave, and dining table and chairs. The room measurements are 13.5m sq including the bathroom.
Tenancy from September 2023.
44 Weeks
Contract start date:
02/09/2023
Rent per week £180.00
Total cost £7,920.00
Sold out
51 Weeks
Contract start date:
02/09/2023
Rent per week £160.00
Total cost £8,160.00
Sold out
Back to top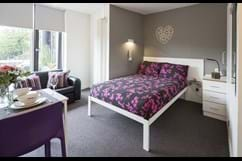 A room with private shower room, kitchen facilities and double bed
Single Occupancy Studio 2023-24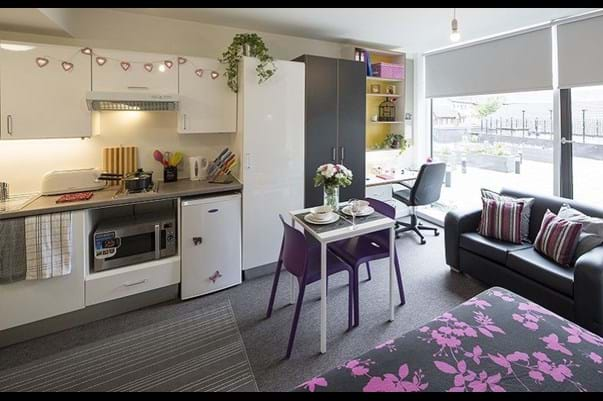 Each studio comes with a double bed, desk and chair, wardrobe and a bookcase. Studios have personal kitchen areas that come equipped with a 2 ring hob, microwave with grill function, sink, fridge with freezer box, sofa and coffee table. The room measurements are 22.8m sq including the bathroom. Tenancy from September 2023.
51 Weeks
Contract start date:
02/09/2023
Rent per week £210.00
Total cost £10,710.00
Sold out
Back to top
Images are for illustrative purposes only, each room type is different in style and size depending on location within the building.
Please note that you will be required to pay a £250 deposit in order to secure your room. No deposit is required for Summer Lets.
Essential information
FAQ's
Documents & policies
We understand that you may have a lot of questions before moving into your new room.
Below is a list of FAQ's to help answer any questions you may have.
If there is anything you still need help with please do not hesitate to get in touch!
How close is the university?
The University of Glasgow's main campus is approx.10 minutes' walk. It takes just 3 minutes when using the nearest underground station. The other universities are also easily accessible by public transport.
I'm applying through clearing, when can I book a room?
If you have gone through clearing and have now have a place at University, you can still book accommodation with us. Check the room availability above, or call us on 0141 433 0710.
My offer has been rejected by the university, can I cancel my booking?
Yes, please screenshot your rejection letter from UCAS along with your name and reference number. Send them to
[email protected]
within 3 working days to receive your deposit back.
Do I have contents insurance?
Yes! As standard, all Derwent's students are automatically covered by the #1 Student insurer, Endsleigh. However this cover may not be sufficient for your needs, for example if you have expensive computers and smart phones so we strongly recommend you review your policy and upgrade your cover if you feel you need it.
Visit endsleigh's website
to check your policy details.
What happens to my deposit
The deposit that you pay will be held by the Lettings Protection Scheme, you will be sent an email advising you of your Deposit ID, which you should keep safe to enable you to get your deposit back
How far is the city centre?
Only 15 – 20 minutes' walk or 10 minutes on public transport however the nearby West End area also boasts many bars, restaurants and boutique shops.
Where is the nearest supermarket?
There is a well-stocked Tesco Express adjacent to the site as well as a Morrison's and Sainsbury's in the local area.
Is there a medical centre nearby?
There are several GP surgeries in close proximity to the site and the University of Glasgow also has a medical practice in the main campus.
Where is the nearest cashpoint?
There is a cashpoint at the adjacent Tesco Express.
Where is the nearest police station?
The nearest police station is a few minutes away along Dumbarton Road.
Where is the nearest post office?
The nearest post office is a few minutes away along Dumbarton Road.
Where is the nearest gym?
There is a 24 hour gym just a few yards away offering student memberships and discounts for Hyndland House residents.
How far are the bus/train stations?
The nearest bus & train station is Partick Station which is a 5 minute walk.
Where's the nearest bus stop?
There is a bus stop across the road with frequent buses to the city centre as well as Kelvinhall subway station.
What's in my room?
Your room is fully furnished with the following; bed (3/4 sized for en-suites & double for studios), desk, chair, wardrobe, bedside table, bookcase, noticeboard, mirror and waste bin. Studio flats also have kitchen facilities within the room.
What is included in my internet package?
Included - 50Mbps*, free for the year Wired and Wi-Fi Internet access will be available throughout the building including your rooms and communal areas. *50Mb speed is best achieved by a wired connection and will vary based on the number of users. For additional services click
here.
How many wireless devices can I register?
Students can have up to 5 devises registered with the one account. WIFI speed can vary dependent on the number of users at any time but speeds are faster through Ethernet connection
What is included in the kitchen?
Kitchens come equipped with: - Hobs - Microwaves - Fridge/freezers - Kettle - Recycling bins - Vacuum - Mop & bucket - Ironing boards We also have kitchen and bedroom packs available through UniKitOut which offer everything from utensils to crockery. If you would like to find out more about these click
here.
Who cleans my flat?
Our Housekeeping team provides general cleaning of your kitchen once a week, however you will be responsible for sharing the cleaning duties of your kitchen/ living area with your fellow flatmates. You are also responsible for cleaning your own bedroom.
Can I bring a pet?
Sorry pets are not permitted at Hyndland House!
Where can I do my laundry?
There is an onsite laundry on the ground floor which will be operated by a top up card system.
Can I personalise my room?
A noticeboard is provided in your room for posters etc. - you must not pin items onto the walls. Any damage to your room will be chargeable.
Can I have guests to stay?
Yes guests are permitted for a maximum of 2 consecutive nights staying in your bedroom. Please sign them in at reception on arrival.
Can I bring my car?
Hyndland House is a car free site and does not provide parking spaces.
Is there anywhere I can store my bike?
Yes we have secure bike storage facilities in our courtyard area.
Where do I collect my post from?
There are post boxes in the main entrance and larger parcels can be collected from reception.
How do I report maintenance issues?
Hyndland House has a dedicated management team here to help with all maintenance issues you may have. An out of hour's number will also be available 24 hours a day in case of emergency.
Can I change my room?
Rooms are allocated before arrival and so it may not be possible to change. Please contact the onsite reception team with any queries about your room as soon as possible on arrival.
Do I need to have a TV licence?
If you are in a shared flat the TV licence will be covered and paid for by Hyndland House for the TV in the Kitchen /lounge area, however you will be required to purchase your own TV licence if you wish to watch live TV in your bedroom, . Please refer to the
BBC website
on policy.
What events do you arrange on the site?
The Hyndland House team will organise events throughout the year such as student experience days and welcome events. Email us with any ideas/suggestions for events you would like to see happen throughout the year!
What facilities are there on the site?
Hyndland House has a lounge with TV & vending machines which now includes Chinese snacks! There is also laundry facilities, managed reception area with CCTV and an outside patio area with secure bicycle storage.
Can I store my possessions in the summer?
Storage facilities for departing students are not currently available however the site staff will be happy to provide you details for local storage/shipping companies. If you are returning to stay with us, please contact us as soon as possible to discuss your options.
Can I book for summer?
To be confirmed, please enquire at reception.
Can I arrive early?
Students can arrive early only if they are booking for the summer period. Please contact the office to discuss your requirements and check availability.
What about safety and security on site?
Hyndland House has a managed reception desk with CCTV and out of hour's security.
Download useful and important policy documents and agreements below.
Back to top