Buchanan View, 33-35 Calgary Street, Glasgow G4 0XG
0141 333 1372
buchanan.view@studentroost.co.uk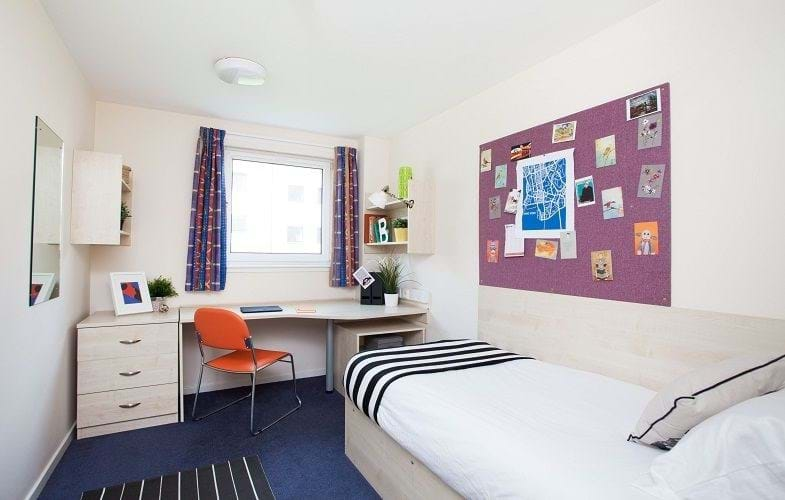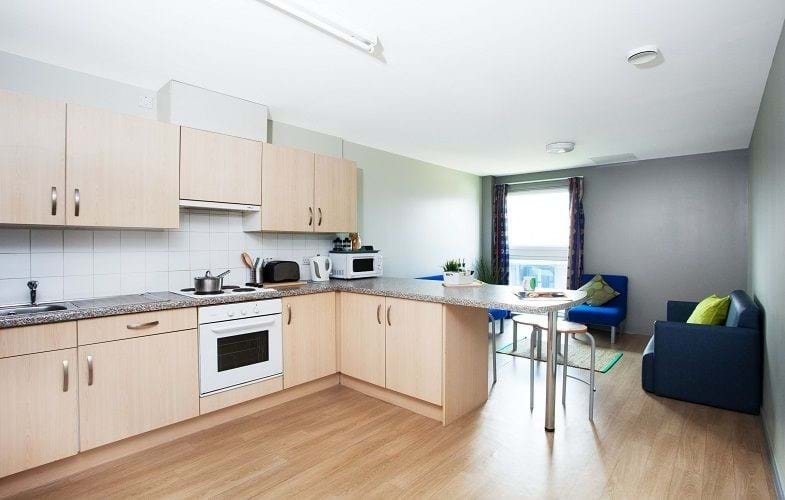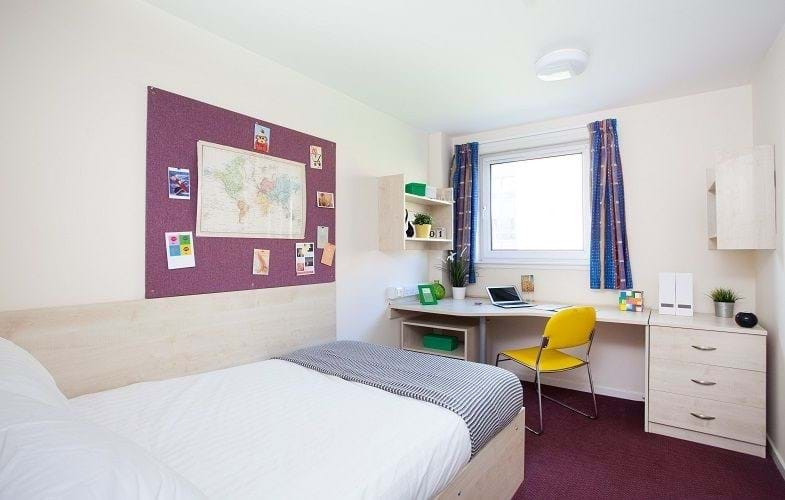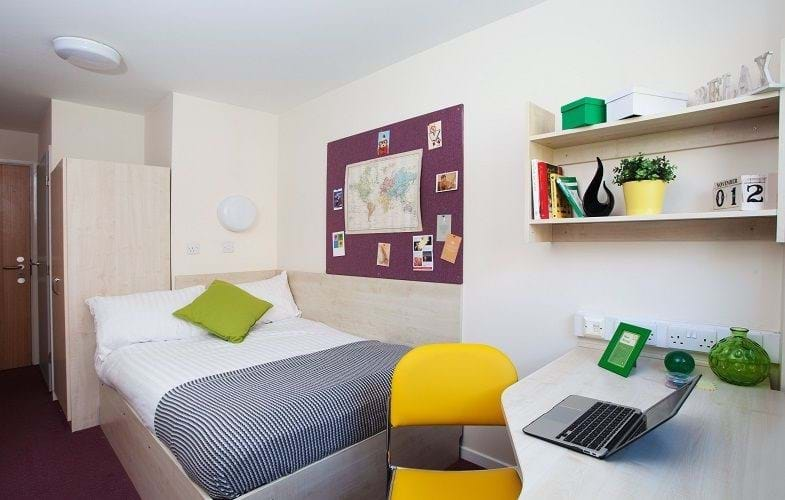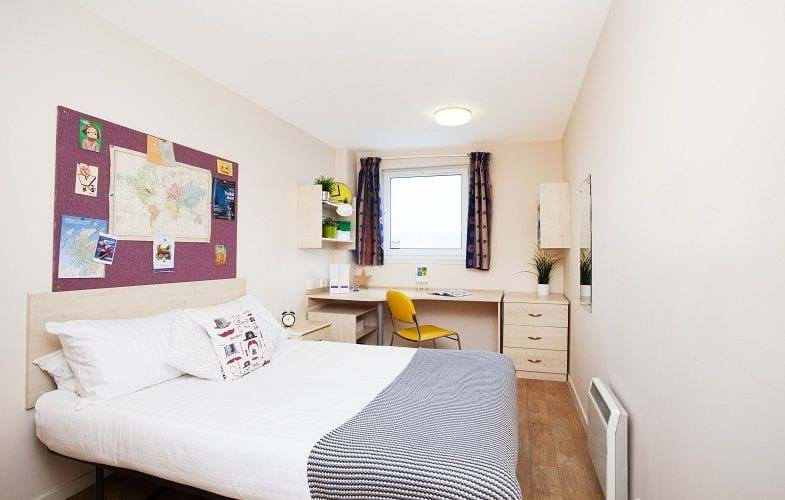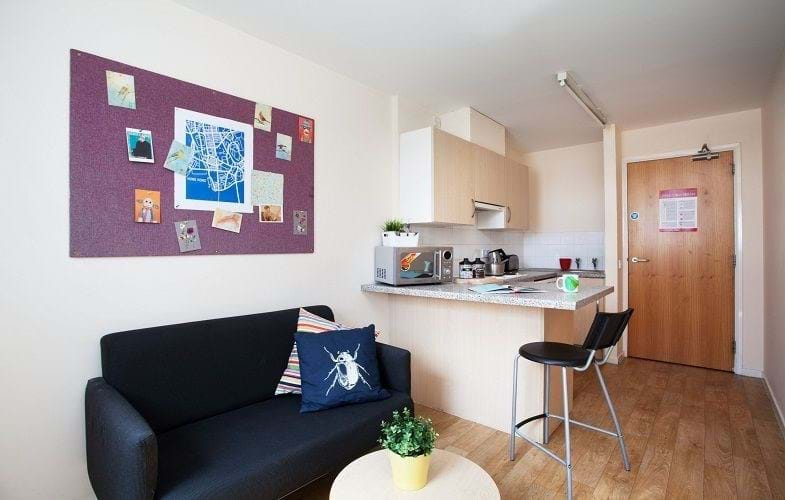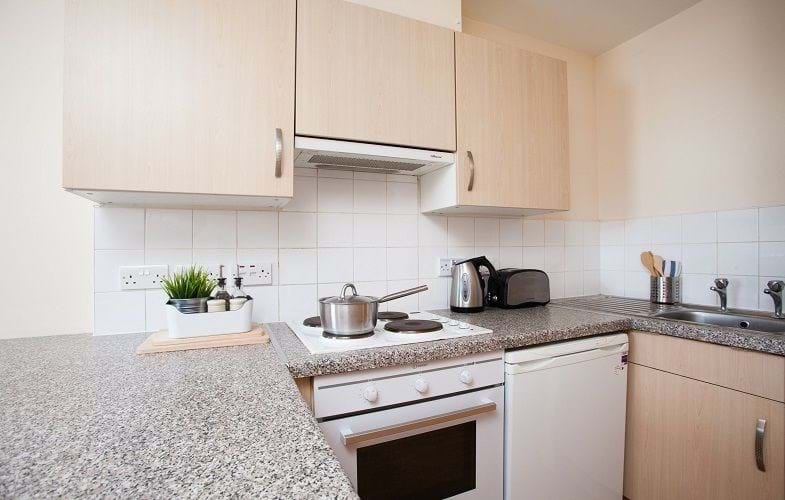 Our location
Buchanan View has a great social community with its own common room and secure on-site parking. Within a short walk you will find Glasgow Caledonian University along with local amenities such as a post office, supermarkets and banks. Transport around the city is good with buses and the underground subway. The closest subway stations are Cowcaddens and Buchanan Street.
Read more
Back to top
Room types and prices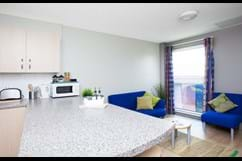 Perfect for living with your friends without having to share a bathroom!
Classic En-suite 2017/18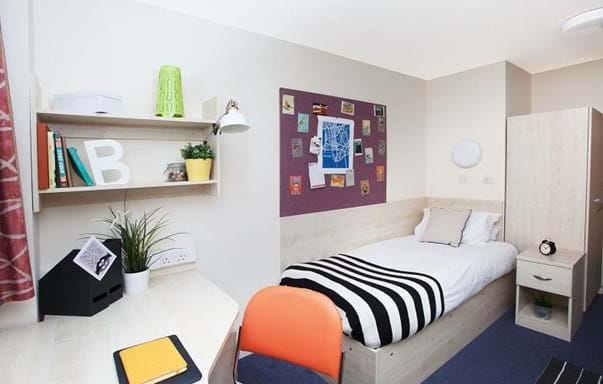 A 3/4 bed, shower room with toilet and sink, study space with desk, shared lounge and kitchen area along with a large wardrobe and under bed storage. Typical room size 13sqm.
44 week contract
Contract start date:
26/08/2017
Rent per week £109.00
Total cost £4,796.00
Limited availability
51 week contract
Contract start date:
26/08/2017
Rent per week £109.00
Total cost £5,559.00
Limited availability
Back to top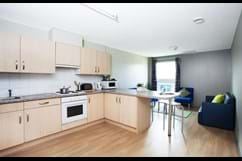 All the space and comforts you could want without sharing with anyone else.
Premium Studio 2017/18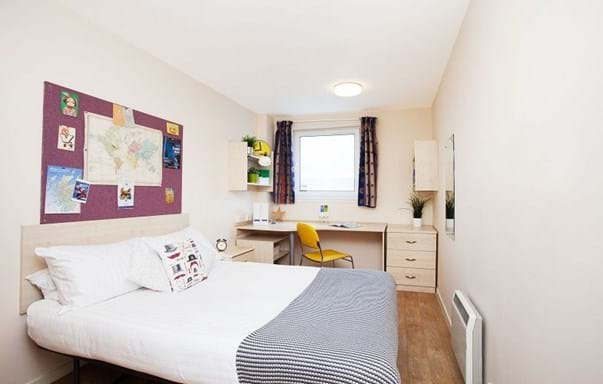 Your own double bed, fully fitted kitchen with private dining and living area, as well as a large study space with desk and your own shower room with toilet and sink.
44 week contract
Contract start date:
26/08/2017
Rent per week £139.00
Total cost £6,116.00
Sold out
51 week contract
Contract start date:
26/08/2017
Rent per week £139.00
Total cost £7,089.00
Sold out
Back to top
Essential information
FAQ's
Documents & policies
We understand that you may have a lot of questions before moving into your new room.
Below is a list of FAQ's to help answer any questions you may have.
If there is anything you still need help with please do not hesitate to get in touch!
I'm applying through clearing, when can I book a room?
If you have gone through clearing and have now have a place at University, you can still book accommodation with us. Check the room availability above, or call us on 0141 333 1372.
My offer has been rejected by the university, can I cancel my booking?
Yes, please screenshot your rejection letter from UCAS along with your name and reference number. Send them to buchananview@derwentstudents.com within 3 working days to receive your deposit back.
How close is the university?
Glasgow Caledonian University is a 7 minute walk away.
I'm an International Student, do I need a UK Guarantor to book?
If you choose to pay termly, you are required to supply a UK guarantor who will guarantee to make your instalment payments if you are unable to. The guarantor must be living in the UK, be in full time employment or a homeowner. If you choose to pay your rent in full, you do not need a UK guarantor. If you want to pay in instalments but are unable to provide a UK guarantor, we work closely with our partner,
Housing Hand
. They provide a UK guarantor service for international students who are unable to provide a suitable guarantor. If you would like more information on the service they provide and their fees, please visit their website
www.housinghand.co.uk
or you can contact them directly on 0207 205 2625.
Who looks after my deposit?
What about the WiFi?
The WiFi is included in your room booking and has a base wireless speed of 100mb/s across the entire site. There is no limit to the number of devices you can connect to the WiFi.
Do I have contents insurance?
Yes! As standard, all Student Roost accommodation is automatically covered by the number one student insurer, Endsleigh. Please review your policy and check to see if you need to upgrade your cover at all. Click
HERE
to check your policy details.
How far is the city centre?
The city centre is just 9 minutes by foot.
Where is the nearest supermarket?
The Sainsbury's Local is just a 12 minute walk away.
Is there a medical centre nearby?
Bryden Medical is a 10 minute walk.
Where is the nearest cashpoint?
Santander bank is a 6 minute walk away.
Where is the nearest post office?
The Glasgow Central Post Office is a 12 minute walk away on W Nile Street.
Where is the nearest gym?
Buchanan View is close to The Arc Gym which is situated on Glasgow Caledonian Universities onsite campus. There are also a number of private gyms in the local area, such as Pure Gym or Virgin Active.
How far are the bus/train stations?
Glasgow's central bus and train stations are both located in the city centre.
Where's the nearest bus stop?
The buses all leave from the central bus station to different parts of the city, there is a bus stop on your front door on Lister Street.
What's in my room?
Our en suite rooms offer comfortable 3/4 size beds, with storage space and a desk area. You'll have your own shower room with a toilet and sink, and you will have shared kitchen facilities. Our studios offer larger beds and more room, with kitchen facilities included in your studio.
What is included in the kitchen?
Your kitchen includes: - Basic white goods (oven, hob and fridge/freezer) - Kettle - Microwave - Toaster There is also enough furniture for you and your flatmates to sit comfortably together. We also have kitchen and bedroom packs available through UniKitOut which offer everything from utensils to crockery. If you would like to find out more about these click
here.
Who cleans my flat?
You are responsible for keeping the flat in a suitable condition. There is a fortnightly kitchen cleaning service; our housekeepers will clean your kitchen, provided it is kept in a reasonable state of cleanliness.
Can I bring a pet?
Sorry, pets are not permitted on any Derwent Students properties.
Where can I do laundry?
The laundry room is located just off the Buchanan View Common Room in Block 35. It is accessible 24 hours a day, 7 days a week.
Can I personalise my room?
You are of course free to decorate your room, however we would urge you to avoid sticking pictures or posters on the walls, as if the paint is damaged we would be forced to deduct the cost of repainting from your deposit. Each room comes with a poster board for you to decorate as you wish!
Can I have guests to stay?
Of course! As long as you make us aware that you have a guest and that they are not staying for longer than 2 nights per week.
Can I bring my car?
Buchanan View has a car park for which we charge £10 a week, the total amount to be paid before you check in. There are limited spaces, however, so it is best to book early to avoid disappointment.
Is there anywhere I can store my bike?
Buchanan View has secure bicycle storage.
Where do I collect my post from?
Letters and small parcels will be posted into your flat post box, whereas larger parcels are delivered to the office and processed for collection there. We will send you an email when we have registered it and it is available for collection.
How do I report maintenance issues?
We now have our very own Repair app. Download the 'Main Manager' app onto your smart phone or tablet and then get the site code from Reception. Enter the code into the app and then you can log any problems you're having with your accommodation.
Can I change my room?
If you are unhappy with your room and are able to provide us with an adequate reason as to why you want to change, we will be more than happy to try and move you to a more suitable room if there is one available.
Do I need to have a TV licence?
We have a licence for the television in the common room, however if you wish to watch television in your flat you will need a personal TV licence. Please refer to the
BBC website
on policy.
What events do you arrange on the site?
We are always looking for more ideas for events to arrange at Buchanan View. We have had movie nights, BBQ's and parties on the grass when the weather has been nice. Further ideas are always welcomed.
What facilities are there on site?
There is our 24 hour laundry service, free bike storage, on-site parking, 50 inch HD ready TV with Sky and 24-hour security.
Can I store my possessions in the summer?
We are unable to store your belongings on-site, however we are located next to a very popular and well-priced storage facility which we are happy to direct you to should you require.
Can I book for summer?
Absolutely. Our summer prices are markedly cheaper than our term time prices and many students choose to remain with us over the summer months.
Can I arrive early?
If you let us know well enough in advance we are more than happy to make allowances if your situation requires it.
Download useful and important policy documents and agreements below.
Back to top