Our Coventry Accommodation
From £125 per week
Lynden House is close to Coventry University City campus and is ideal for final year and postgraduate students who want to study quietly.
About Coventry
Coventry is a friendly city with a vast choice of restaurants and diverse shopping facilities and is home to the refurbished 850 seat Belgrade Theatre and the Ricoh Arena for large-scale entertainment. Central Six Retail Park is five minutes from the city centre, offering excellent shopping, and five miles east of the city is Coombe Country Park, 500 acres of parkland, perfect for escaping urban life.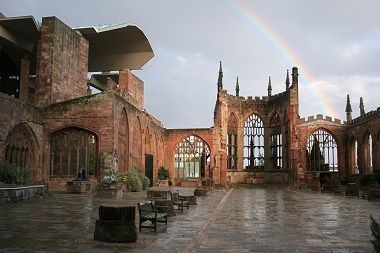 Shopping
From big name high street brands to independent retailers, Coventry City Centre has it all. For designer shops and big high street brands such as H&M, Next and Marks & Spencers, Lower Precinct Shopping Centre, Coventry High Street and Broadgate and Central Lanes are perfect areas for you to shop. For smaller independent and niche shops, head down to Son Street and Greyfriars Walk. If it's fresh produce market shopping you desire, then Coventry Market on Queen Victoria Road with its 170 stalls is the ideal shopping location for you.
Nightlife
Coventry has a number of top nightspots for students, from great bars and pubs for socialising and watching sports to large clubs with big name DJs and swanky cocktail bars. With two universities, you can also be sure to stumble across an array of drinks offers to help save some of those precious pennies.
Some of the top venues for student nightlife in the city:
The Arts & Attractions
There are a number of theatres, museums and galleries in and around Coventry to explore, and of course, the Cathedral that prides itself on being one of the top landmarks in Britain and houses the largest tapestry in the world. Many of these venues have free entry and regular events so you'll never be short of anything to do or see in the city.
Top art and culture venues include:
Sport
If it's thrill-seeking entertainment, regular exercise classes and competitive sports you're looking for, Coventry covers all bases. You can partake in sports including bowling, football, rugby, swimming, golf and karting. Coventry is also home to the Ricoh Arena, Coventry City FC's 32,609 seater stadium and the Skydome Arena, home to the Coventry Blaze ice hockey team.
Popular sport venues and centres in Coventry include:
Eating
Coventry is home to plenty of restaurants offering cuisines from around the globe. From gastro pubs and small cafes to Michelin star fine dining and popular fast food chains, there is something to suit every taste and occasion. Key areas for finding a number of tasty eateries include Coventry High Street, Spon Street, Queen's Road, Earlsdon Street and Far Gosford Street.
Some of our top restaurant picks include:
Music
If live music is your thing, then there are plenty of options for you in Coventry. There is an array of venues in the city, hosting a variety of live music to suit every taste. From Rock to Jazz, you will find a venue playing the perfect music genre.
The best live music venues in Coventry include:
Getting Around
Getting around Coventry is easy and accessible by car, bus, taxi and on foot. To reach Coventry, it's only a 15-minute train journey to Birmingham and a mere one-hour train journey from London. Coventry's main train station is only a 10 minute walk from Lynden House student accommodation and there are a number of bus stops surrounding the property providing excellent links to the rest of the city and universities.
I stayed at Brookside for 4 years, so this statement alone says how well I enjoyed my time here!
Anish Malkan, BSc (hons) Computer Forensics and Security - 4th Year Student , University of Derby