Our Aberdeen Accommodation
From £133 per week
Mealmarket Exchange is in the heart of Aberdeen City Centre, making this student accommodation ideal for the the Robert Gordon University, Garthdee campus and Aberdeen College.
About Aberdeen
Aberdeen is a thriving city with a welcoming community and has even been voted multiple times as the 'happiest place to live' in Britain. The city has a bustling heart but also offers beautiful natural surroundings, where urban dolphins can often be seen playing just off shore.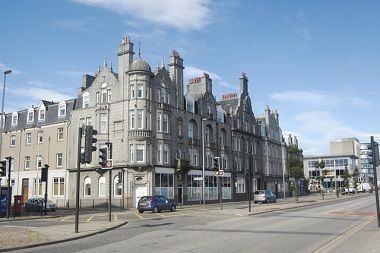 Shopping
As a major shopping hub of northern Scotland, people come from miles around to visit, even as far away as Norway, just to sample the shopping delights.
The city has five major shopping centres: Union Square, Trinity Centre, Bon Accord & St Nicholas, Kittybrewster and the Academy. All of the centres offer a wide selection of top fashion brands and high street stores. If you want designer brands, quaint cafes and a laid back atmosphere then the 'Granite Mile' in Aberdeen's West End has you covered.
Nightlife
You'll be in the nightlife capital of the north, so you will never be short of things to do on a night out.
Here are some of the most popular venues:
The Moorings Bar - Incredible pirate themed Tiki bar. This student favourite offers student discount and an even bigger discount should you come dressed as a pirate!
Slains Castle – Serving great value food and drinks in a spooky gothic atmosphere and a great selection of alternative music and live bands to keep you entertained.
The Tippling House - This underground venue changes from casual evening hangout to sophisticated late night setting. Well known for its innovative and large cocktail menu.
Espionage - With a range of cheap deals and two huge dance floors blasting out music from the top of the charts, this is the best place to dance the night away.
Sport
The natural landscape of Aberdeen with its many parks, gardens and hiking trails makes it a great place for people who love to be active.  If you like adventure then mountain-biking, skiing, and lots of other extreme sports are also easy to find.
The city is a golfer's paradise with nine courses altogether and also hosts professional sports like ice hockey, rugby and football. If it's traditional sports you're after, then Aberdeen has its own Highland Games, featuring events such as the caber toss, highland dancing, and the big tug-o-war.
Eating
The city is a food lover's hotspot, well known for its Aberdeen Angus beef and for the world's best salmon and trout. It also offers a wide range of cuisines with highly rated Chinese, Thai, Italian, Mexican and especially Indian restaurants.
Here are a few of the best food spots:
Mama Pizza - Italian deli downstairs, pizza restaurant upstairs. This foodie hotspot serves some of the best Italian food in the city at great prices.
Madame Mews - Authentic Thai food in the heart of the city. Excellent value for money with very generous portions.
CAMPUS - A fantastic student friendly bar and grill serving wallet friendly American food and drinks and drinks, doubling up as a sports bar and late night venue later on.
Monsoona - This fantastic Indian restaurant takes pride in making delicious food that is healthy and prepared fresh to order.
The Arts & Attractions
You will find a booming arts scene in the city especially for independent cinema with film festivals happening throughout the year.
Here are some of the top venues across the city:
His Majesty's Theatre – This is one of the largest theatres in Scotland with a capacity of 1,400. It attracts all the top theatre productions, as well as national comedians and entertainers.
AECC Arena – Having a venue this large is great because it attracts the biggest names in music, comedy and entertainment from Russell Howard and Jay Z to other live shows like the X Factor Tour.
Belmont Film House – Aberdeen has three large mainstream cinemas with all the latest releases, but if your passion is for World or independent films then the Belmont is for you.
Music
The music scene here is as diverse as the city itself, with many venues catering to whatever musical style you like.
The Assembly – A fantastic live music venue built inside a former Art Deco cinema. Great atmosphere and host too many local and national bands.
The Blue Lamp – easy to find because of the large blue lamp outside, this cosy music pub is home to the best free Jukebox in Aberdeen.
The Lemon Tree – This great venue focuses on alternative entertainment and experimental music, a must for the best in up and coming musical talent.
Getting Around
Walking is great way to get around the city as the central areas of Aberdeen are quite compact, so most things are in close proximity. If you don't want to walk then the city has an impressive public transport network including buses and trams that can get you to where you need to go. The Mealmarket Exchange is very centrally located and is only 5 minutes' walk from all the shopping and nightlife you could want.
Raleigh is brilliant help is always on hand! The location is perfect for uni, nightlife and shops. The staff are always helpful.
Sophie Minton, Paediatric Nursing , University of Nottingham
This site uses cookies to improve your online experience. By continuing to use this site, you agree to accept these cookies. To hide this message, click here.